Here is another nice example of my sister Karla's work, made into a thank-you note for a recent birthday gift. While most of my sisters use rubber stamps in their papercrafting, Karla does pen and ink drawings, and this dot technique is something that she learned as a high school art student in Vermont. The drawing is enhanced by the rich colors of Mossy Meadow and Cherry Cobbler card stock, and she used one of the Delicate Designs embossing folders to decorate the left side. This folder and the other design in the package are on the Retiring List, and the pair are currently on sale for 50% off ($4.48) while supplies last, through June 2nd.
Here are the Stampin' Up! supplies that Karla used on her Rose card: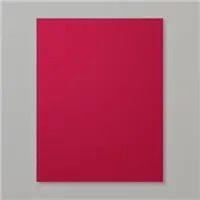 Here is another pen and ink floral drawing by Karla; this time she has water-colored the Poinsettia by hand. Thank you for sharing your talents with us, Karla. Those of us who make handcrafted cards know that when we receive a note in the mail like this, that it is truly a labor of love!