Our Stamping Hostess Group met again on Saturday and Valentine's Day was in the air! We made this card and treat holder:
The red heart card was made with the new Bloomin' Love stamp set and coordinating Bloomin' Heart thinlits dies. I first showed this card in an earlier post that you can see here.
We made this project with the Fry Box Bigz L die and the new First Sight stamp set. Here are some of the other products we used; click on any picture for more info:
One nice thing about the Fry Box die is that it fits perfectly on just a half sheet of 8 1/2″ x 11″ card stock!
Our Hostess, Nancy, brought some extra treats that she made to share with her stamping friends, a sweet tea cup and mini post-it note holder:
Nancy made the tea cup with the Envelope Punch Board, and the post-it note holder with the Scallop Tag Topper Punch. Here are some easy directions for the post-it note project:
1. Cut a piece of card stock to 5″ x 2″.
2. Punch one end with the Scallop Tag Topper Punch.
3. Starting with the flat end, score four lines at 1 1/2″, 2″, 3 1/2″ and 4″.
4. Fold on the score lines and adhere the post-it pad inside.
5. Put a mini-brad on the outside flap. Position it to fasten the scalloped top when closed.
Here are some of the products she used: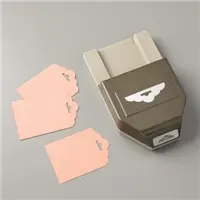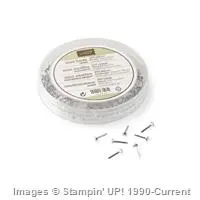 What special projects are you planning for Valentine's Day?